About the producer
Once deemed an 'up-and-coming' winemaker, Eva Fricke is now firmly established in the Rheingau. The Fricke holding is made up of 5ha, having recently purchased a parcel in Bodthental-Steinberg. Currently Eva produces one wine per vineyard, aiming to express the terroir of each site rather than focusing on different sweetness levels.
Organic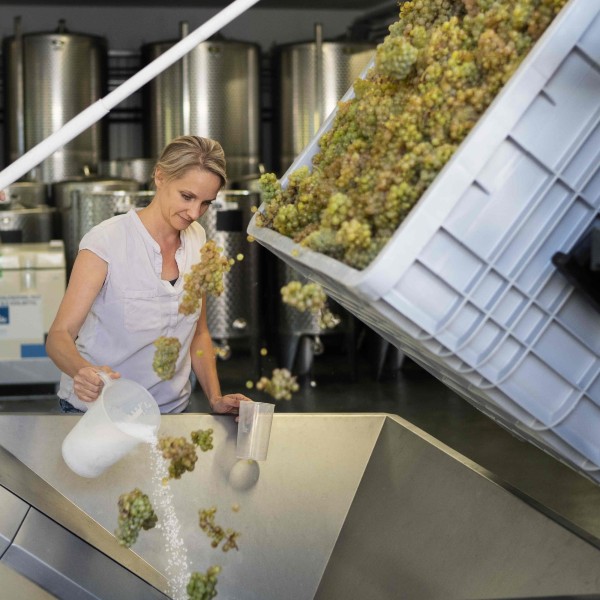 Growing up in the North of Germany to a family not involved in wine, Eva quickly discovered her love for wine and enrolled at the University of Geisenheim to study Viticulture and Oenology. She completed placements at several wineries such as Schloss Johannisberg (Rheingau), Pepper Tree (Hunter Valley), with the prestigious Dominio de Pingus (Ribera del Duero) and finally for renowned Weingut Josef Leitz in Rüdesheim.
Eva's wines are based on a holistic concept that relies on traditional methods, intuition and time. In the cellar, the natural character of each site and the influence of each vintage are respected. Viticulture and vinification have followed ecological standards since 2011. In 2015 the domaine entered the certification process by The Vegan Society and in July 2016 the EU - bio certification. In 2017, she first began practicing biodynamics and since the beginning of 2006, Eva has avoided the uses of any herbicides or pesticides in her vineyards in Lorch. Viticulture and all replanting projects are organised in collaboration with the local nature authorities. The re-cultivation of old vineyards and the conservation of the historic cultural landscape within the UNESCO World Heritage site "Upper Middle Rhine Valley" with all its nature and bird sanctuaries a fundamental part of the estate's philosophy. All wines are made today using organic practices, including contract grapes from different producers. All of the producers she works with are considered as very trustful partners, with the same respect for nature.
Vineyard
11ha of vines are grown on very steep slopes, ranging from 15 to 75 years of age, which helps them produce naturally low yields of c. 35hl/ha. Eva has an ecological approach to viticulture and an absence of herbicides and pesticides were always part of the philosophy. In conversion to organic since 2006.
Winery
Eva's winemaking centres on minimal intervention. A range of ambient and inoculated yeasts are used, with vinification in stainless steel. The wines spend a minimum of six months on lees. There is no recipe here; all of the winemaking varies according to the vineyard, vintage, selection and maturation of grapes. All of the wines are certified vegan.