About the producer
Louis Boillot came to Chambolle, where his partner Ghislaine Barthod originated, from Gevrey-Chambertin, though as his range of wines indicates, he is descended from the Volnay family of Boillots. Louis uses his vast wine experience and knowledge to secure parcels of the finest quality for his négociant business, Maison Louis Boillot. Combined with this local knowledge and his talented winemaking skills, he strives to produce some of the best wines of Gevrey-Chambertin and Chambolle-Musigny.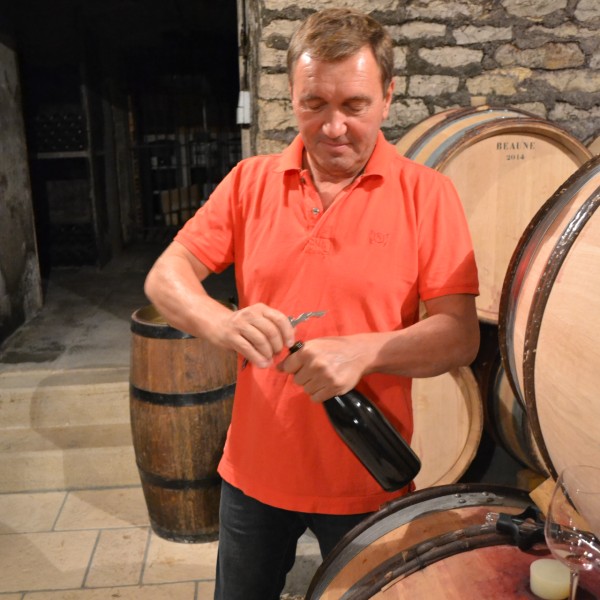 He was formerly associated with his brother and father at Domaine Lucien Boillot, but set up on his own from the 2003 vintage. The wines made now in Chambolle are significantly more interesting than those produced previously in Gevrey.
With Lucien´s retirement in 2002 the estate covered 14ha. Louis and Pierre each bought half of the shares, and the following year they divided the estate equally between them and went their separate ways, Pierre remaining in Gevrey and Louis setting himself in the cellars of his partner Ghislaine Barthod. The past five years have seen a couple of changes: the parcel of Bourgogne Blanc Chardonnay was sold in 2004, and in 2005 he and Ghislaine together purchased a parcel of Chambolle-Musigny.
Vineyard
Working lutte raisonnée, weedkillers are no longer employed here. The soils are ploughed to keep the weeds at bay and severe debudding takes place in the spring. The vines are systematically green harvested. Leaf-plucking is not carried out but the entrecoeurs (lateral branches) are removed to allow for better ventilation of the bunches. To the same end, the branches are trimmed mechanically.
Winery
At harvest time the grapes are put into hods and are then transferred to plastic cases which will hold up to 800 kilograms. They are first sorted by the pickers and are then scrutinised on the selection table which is set up in the vines. The grapes from the Côte de Beaune vineyards are then put onto a lorry to be taken to Chambolle where they will be vinified with those of Gevrey. Once 100% destalked, the winemaking begins with a cool, pre-fermentation maceration, before being fermented then sent to barrel once the juice is cool again. 20% to 30% new wood is used across the whole range, with an élevage of 16 to 18 months before bottling without fining or filtration.