About the producer
David has taken over part of his octogenerian grandfather's wine domaine in Santenay, Côte de Beaune, as of the 2009 vintage. Prior to that, David worked with Olivier Lamy and Domaine de la Romanée-Conti, as well as doing a harvest in New Zealand at Neudorf. Since working 5ha of the family's 9ha, significant changes in both viticulture and vinification have been made to modernise the former, ancient regime. The vineyards here were almost all planted in the 1960s, giving him old-vines to work with. They are mostly pruned by Cordon Royat to minimise vigour and the land is either ploughed or left with grass, depending on the circumstance of a given plot.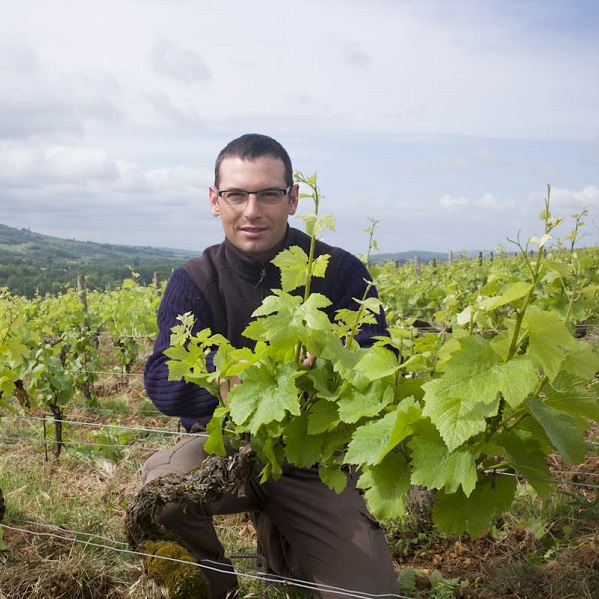 Maranges is the southernmost wine appellation of the Côte de Beaune, capable of producing relatively robust red wines. The AC only came into existence in 1989 with the amalgamation of the villages of Cheilly, Dezize and Sampigny. Only a very small amount of white wine is made, and the Pinot Noir here tends to be firm and sturdy wines needing a gentle hand to manage the fruit.
Vineyard
David's Maranges fruit comes from two plots, one of which is Premier Cru on Jurassic limestone, the other on mixed soil with sandstone, planted in 1947 and 1943 respectively.
Winery
Hand-picked grapes are transported to the winery in small crates, where they are sorted and partially destemmed for the reds, and pressed as whole bunches for the whites. For the whites, wild yeasts ferment the must over a long period in a combination of 300 litre barrels and tanks. The wine is left to mature on fine lees before bottling. The reds are tasted daily during maceration to ensure optimum tannin and flavour balance, with fermentations triggered by wild yeasts. Each 228 litre barrel is selected and customised for each wine. The barrels are topped up weekly and are lightly fined and filtered ahead of bottling.